So yesterday was the one month death anniversary of my prince charming, Ruff, a Siberian Husky. I still can't believe that he's gone except that I have to believe it because every time I walk past the places he should be at, he's not there… And when I get the urge to give him a cuddle or pet I come to the realization again that he isn't around for that and the feelings of losing him trickle back to me all over again.  It's getting better though… I'm getting better.  I don't think however, I will ever forget the last few days of his life, the last time I saw him, or the moment my dad told me that he was gone.  I knew it was a possibility… I had the same feeling before our rescued stray cat died.  I just wasn't ready for it… I don't think you're ever ready to lose someone important to you.  You have to know that Ruff had arthritis in his back legs, most large dogs get arthritis when they get old.  But it was starting to get better, and he was running and jumping around the yard like a puppy, almost knocking me over like he used to when he was little.  I love watching him run and I loved it those last few days because I got to see that naughty little sparkle in his eye again.  From one day to the next though, he stopped moving or eating, he'd just lay there defecating on himself.  So the next morning, I could hear dad washing him off while I was getting ready for a meeting for a potential graphics client… I could hear it because Ruff was whimpering.  It broke my heart to hear him crying like that and it broke my heart even more to know that there was nothing I could do to ease his pain.  Dad called me outside a few minutes later and I helped him carry Ruff to the back of his truck so that he could take him to the vet while I was at the meeting.  Dad and I both set off in our different directions at the same time, dad to the vet's and I, to the meeting I had obligated myself into going to.  As soon as I got to my destination, I called dad on his cell phone but didn't get an answer.  Mom called me back probably a second later asking me what I wanted… which meant that dad left his cell phone on his desk at home (not uncommon).  I told her I was just wondering about Ruff, which she didn't respond to and I told her I had to go because the meeting was supposed to take place shortly.  After the meeting, my business partner (and friend), along with his wife, decided to have lunch because none of us had had anything to eat all day and the meeting had taken much longer than we expected.  While we were waiting for our order at the restaurant I received a call from my dad, who finally got to his phone and saw my missed call.  I asked him about Ruff, mustering up all the hope in my heart that I could.  Dad said, "He's better now…" (this had me elated… my prayers had worked this time?) "….he's in heaven."  My heart sank and I tried really hard to hold back the tears because I didn't want to break down in a public place but I couldn't hold it.  "You're joking right?" were the words that came out of my mouth as I tried to regain some calm.  He wasn't joking though.  Dad, with the consultation of the vet had made the decision to put my baby to sleep because there was nothing they could do for him.  My consolation came in the fact that dad was getting him cremated and that Ruff's ashes would be coming home to us.  But to this day I still wish that I had been there with him when he passed, even if, I'm slightly relieved that my last memory of him isn't of him laying on a cold metal table.
I had a dream about him on Sunday that had me pretty shaken up.  (Before I tell you about it, you should probably know that the vet was supposed to call us when the ashes were ready within about a week or so but they never did and not having ever done this before we just assumed that maybe it hadn't been done yet but finally after almost a month I had it and dad and I went to the vet's office to ask after his ashes.  The lady at the front desk was very nice about the whole thing, saying that someone had called but apparently they hadn't thought to leave a message on our machine(?), which I think you would do if you couldn't reach someone but wanted to get in touch with them… It doesn't matter now anyway, because his ashes are home where they belong. )  The setting wasn't exactly where my family and I are living now.  It looked a little the outside of our house in Hawaii.  The only thing that was different was instead of being the age I was in Hawaii, I was me as I am now.  We had Ruff's ashes but it didn't feel right… nothing felt right.  Someone calls me (I think it's my sister), and she tells me to go outside because dad is bring Ruff home.  This confuses me because we already have his ashes, however, I still go outside and there I find dad and Ruff (who looks much older with one blind eye that's a really glossy milk white in color).  Ruff is really happy though, he's excited to see me and I'm excited to see him and I run over to pet and hug him all the while saying, "But we have his ashes…"   I try to wake myself up, it's a struggle, but I finally wake myself up from the dream and I look over on my dresser where his ashes are.  I know he's gone but I can't get the image of him in my dream out of my head.  I told my sisters about my dream and my eldest sister said that maybe Ruff just doesn't want me to forget him.  I don't think that's ever going to be a worry because I won't ever forget him.  He was a constant companion for nearly fourteen years. He gave me smiles and laughter, he frustrated me when he was stubborn (and he was stubborn), he was a pillow for my tears, and a forever patient (even if he did give me looks) listener to my happy and sad rambling.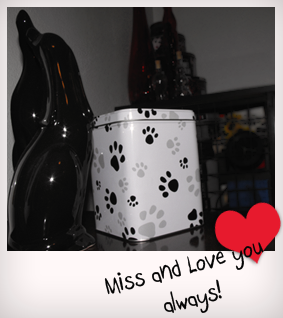 On another note, and a happier one at that. I painted my toenails tonight. It's not really a jump for joy kind of happier note but it's better than talking about how my dog died. My sister was cleaning out some of the stuff in her room and she gave me back the stocking stuffer I gave her for Christmas (well I took it back because she was going to put it in the dump pile), which was a small little bottle of glittery orange nail polish and a heart shaped nail file. I have one exactly like it that I also stuck in my stocking this Christmas (yes, I was my own Santa) but I hadn't used it yet. So I took the moment after helping her clean to give myself a pedicure. I have to say that I really like this color. It's bright and fresh without being blinding and it has a little sheen to it with bits of glitter that give it a sort of amber sheen depending on how the light hits it. I had to take a picture to show off the color. Don't mind my toe but unfortunately, the color shows up better on the toe than it does in the bottle (at least in the picture).
I will be back in a day or so with some dress shots. My sister has been on a bit of a cleaning spree and the other day she cleaned out part of her closet, which has me enjoying some really gorgeous dresses that she doesn't want/fit anymore. (Thanks TAC, Love ya!)